INGREDIENTS
INGREDIENTS ENDEMIK AND MYSTIK WATERS
Helychrisum Italicum
Helychrisum Italicum is a typical Mediterranean plant gifted with powerful antihistaminic properties, soothing, useful in several skin issues such as psoriasis, herpes, eczema and also in case of domestic and sun burns.
It is perfect for sensitive and allergy-prone skin, like with contact dermatitis and skin rashes.
The name of the plant comes from Greek and it means 'golden sun', it is also called Immortal because of the eternal fresh look of the dried flowers.
In Aromatherapy, it's used to give peace and a positive attitude.
Properties:
Soothing and Protective: fights free radicals avoiding rednesses
Antihistaminic: helps keeping under control allergy-prone skin reactions 
Detox: avoids puffiness clearing out toxins from outer skin layer
Repairing: regenerates cells, clears dark spots, scars and little wounds
Better micro-circulation: against couperose and rosacea
Juniper
Juniper essential oil and hydrosol are obtained from distillation of Juniperus Communis plant, wildly harvested from Sardinia.
Traditionally, Juniper has always been used for its therapeutic benefits and, like Lentisk, it was used to be burned on fire to keep away insects, epidemics and evil spirits.
It has potent detox, diuretic and draining benefits, promoting toxins elimination through the lymphatic system, reducing in this way water retention.
In Aromatherapy it is used for its energizing action and stimulates good mood.
Properties:
Detox: eliminates toxins transporting them directly to the lymphatic system
Tonifying: purifies organism fighting imperfections
Antiseptic: disinfect and helps getting rid of herpes
Lavender
Thanks to its antimicrobial properties, Lavender oil has been used for centuries against infections, bacterias and fungi, speeding up the healing process.
It's anti-inflammatory and antioxidant, it helps stressed skin, slowing down the aging process.
Free Radicals are responsible for weakening skin's immune system and can cause incredible damage to our body; Lavender oil works synergically with the human body's antioxidants, increasing their activity.
In Aromatherapy, Lavender is vastly used for its calming and sedative effect, improves sleep quality and ceases restlessness; these are the main reasons why Lavender is the essential oil most used in the world.
Properties:
Repairing: perfect in case of burns and wounds, gives relief to irritated skin
Antiseptic: disinfect scratches and little wounds, domestic and sun burns and insect bites
Antioxidant: fights free radicals preventing skin oxidation
Pistacia Lentiscus
Lentisk oil is a vegetable oil obtained from a bushy evergreen shrub, endemic from Sardinia and the Mediterranean area. The result of cold pressing the berries of this shrub is an aromatic oil used traditionally for cooking instead of the expensive (at that time scarce) olive oil and also in Sardinian Traditional Medicine for its multiple therapeutic benefits.
Letisk was considered magic from village healers, like bruxas, which used branches and plant oil – called in sardinian 'ollu de stincu' – to heal inflamed skin from St Antony's fire (Herper Zoster) and even fire burns. During ceremonies, its branches were burned by healers while reciting 'brebus', silent and mysterious prayers that were passed on exclusively from old bruxas to young women from the same family.
Lentisk plant has the ability to improve the soil around it making it richer and fertile; applied on skin improves blood circulation stimulating cell regeneration and protecting skin from external factors.
Properties:
Antioxidant: protects skin from free radicals
Regenerating: stimulates cell regeneration scarring damaged tissue
Soothing: reduces redness and itchiness, also caused by insect bites
Improves blood circulation: rich in Omega 6 and 9, keep under control cholesterol 
Myrtle
Myrtle essential oil and hydrosol are extracts from the Myrtus Communis plant, very common in Sardinia and Corsica. The plant name comes from Myrsine, a mythological woman from Ancient Greece, killed for vengeance by a jealous man and transformed by Athena in a shrub that took her name. 
Famous for its multiple properties among which we find balsamic, antibacterial and purifying, useful against excess sebum and acne.
Centuries ago, through the distillation process, a precious distilled water was obtained and called 'Angels water', commonly used on skin for its astringent and purifying properties.
Its astringency is due to a high volume of tannins, found in leaves and berries.
In Aromatherapy is used to get an energizing and stimulating effect, and helps with focus.
Properties
Astringent: purifies oily, inflamed and acne-prone skin
Tonifying: improves blood circulation and skin tone
Anti-inflammatory: protects skin from dermatitis and infections.
Rosmarinus Officinalis
The name  Rosmarinus officinalis is original from latin rosae maris and it means 'sea rose', it's endemic from the Mediterranean coastal areas and it's been used since centuries for its many benefits.
Rich in flavonoids, tannins and phenolic acids like rosmarinic acid, which has antioxidant properties and prevents free radicals and skin aging.
It stimulates blood circulation, promotes tissue oxygenation, has astringent and antiseptic effects, tonifies and purifies skin helping to get rid of acne and dark spots.
Rosemary is used in aromatherapy as a mood booster, helps improve focus and memory.
Properties:
Antibacterial: heals bacterial infections
Antioxidant: fights free radicals
Purifying: eliminates excessive sebum
Repairing: reduces scars and little wounds
Thymus
Thymus vulgaris hydrosol, obtained by the distillation of flowers and leaves, has anti-bacterial and antifungal properties for its content of thymol, stimulating skin's immune system.
It disinfect the skin helping blood circulation on stressed skin.
Its slightly acid PH makes the Thyme hydrosol a perfect skin tonic.
Properties:
Skin balancing: disinfect and purifies skin keeping clean from excess sebum
Detox: its detox action keeps skin free from toxins and free radicals
Soothing: calms irritated and inflamed skin.
Hypericum Perforatum -  St. John's wort
Hypericum Perforatum is also called St. John's wort as it is harvested on the 24th of June's night (St. John's day). Traditionally used for its soothing and softening properties on burned skin or insect bites and itchiness.
The flowers needed for this extract are wildly harvested in North Sardinia and  macerated in Almond Oil. During maceration, Ipericin contained in the bright yellow flowers gives the carrier oil a deep red color. This substance is photosensitive and even though it is contained in minimum quantities in this Face Oil, we advise not to expose your skin to the sun without sunscreen after the application. 
Properties:
Softening and soothing: perfect in case of redness, dry and chapped skin
Scar tissue recovery and elasticizing: repairs tissues helping them to recover lost elasticity 
Sweet Almond
Originally from Ancient Persia, Sweet Almond tree was brought more than two thousand years ago to the Mediterranean area by the Phoenicians and from then its oil has always been used to soothe and soften the skin. Nowadays it is famous for helping dry and irritated skin, especially when used regularly.
It is rich in Vitamins A, B, D and E, phytosterols and minerals that improve the skin barrier function and blood circulation, slowing down aging symptoms thanks to its cell regenerating action.
Properties:
Antioxidant: rich in Vitamins, Omegas and minerals that protect skin from oxidation stress
Anti-wrinkle: slows down aging process through phyto components synergic work
Elasticising: contains proteins that allow collagen production, avoiding derma to break
Hydrating: fights trans-epidermal water loss (TEWL) working as protective film
Soothing and softening: Omega fatty acids help soothing itchiness and irritation 
Vitis vinifera – Grape seed oil
Vitis vinifera oil is obtained from cold pressing grape seeds and leftover material from wine production, for this reason is a symbol of sustainability. The material used for the production of this oil comes from South West Sardinia.
It's the richest oil in Linoleic Acid, an essential fatty acid and Omega 6 that promotes cell cohesion avoiding water loss and allows all skin layers to get deeply nourished.
Grape seed oil is also rich in flavonoids, polyphenols and Vitamin C and E that work synergically to protect the body from sun damage like dark spots and early aging signs and also from other atmospheric agents like wind and cold, forming an efficient natural barrier.
Properties:
Antioxidant: Omega 6 and phenolic acid fight free radicals and stimulate microcirculation
Balancing: fast absorbing oil, avoids pores clogging and regulates sebum excess
Elasticising: polyphenols help avoiding loss of collagen, elastin and hyaluronic acid
Hydrating: creates a protective barrier that reduces TEWL, trans-epidermal water loss, keeping skin hydrated
Rosa Canina
Rich in flavonoids, tannins, polyphenols, fatty acids and Vitamins C, A and E, Rosa Canina is the most common endemic plant in Italy. The red rosehips necessary for the production of this extract have been wildly harvested in North Sardinia and macerated in Almond oil.
Properties:
Antioxidant: vitamins are potent antioxidants and fight skin oxidation keeping it healthy and slowing down the formation of new wrinkles
Regenerating: Vitamin A stimulates cell turnover as it can be deeply absorbed and works to repair scars, little wounds and wrinkles.
Elasticising: tonifies sunburned, dry and dehydrated skin
Balancing: regulates excessive sebum and normalizes skin
Vitamin E
Vitamin E, or tocoferol, has strong antioxidant properties, fights free radicals and promotes cellular regeneration. It's been added to this formula to protect oils from oxidation and guarantee the quality of this product from the first until the last application.
INGREDIENTS EARTH DUST
ULTRA-VENTILATED RED CLAY - ITALY
The Red Clay extracted in Sardinia is rich in minerals, especially iron, to which it owes its red color. It has an absorbing and balancing effect on oily skin; stimulates circulation by fighting water retention and thus depuffing the face; promotes cell regeneration by reducing wrinkles and giving a healthy complexion.
Recommended for fragile and irritated, very dry or very oily skin.
ULTRA-VENTILATED GREEN CLAY - ITALY
The Sardinian Green Clay has a great absorbing and purifying power, thanks to the high presence of Potassium which gives it the green color, leaving the skin free from impurities and smooth to the touch.
It has anti-inflammatory and healing properties, therefore it helps oily skin, prone to acne and eczema to maintain their physiological balance.
ULTRA-VENTILATED MULTANI CLAY - ITALY
The Multani Clay of Sardinia carries out a cleansing and purifying action on the skin. It manages to remove impurities from the pores by unclogging them, acting as an exfoliant and cleaning the skin from dirt, sweat and sebum.
The exfoliating effect helps to lighten dark spots (hyperpigmentation), giving the skin a homogeneous complexion, having antiseptic properties that calm redness and inflammation.
ULTRA-VENTILATED WHITE CLAY - ITALY
White Clay, also called Kaolin as it was discovered in the Chinese region of Kao-Ling, is mainly composed of silicon and aluminum, minerals to which Kaolin owes its whitening power on skin spots. Being very delicate, it is suitable for all skin types for its soothing, antiseptic and detox action, calms the skin from irritation, acne and inflammation, freeing it from impurities.
It is able to absorb toxins and waste, leaving the skin clean of sweat, sebum and grease.
Damask Rose Petal Powder keeps the skin fresh, young and radiant, thanks to its regenerating and tonifying properties. Particularly suitable for dry and mature skin, as well as irritated and sensitive ones, Rose powder helps in case of redness, wrinkles and scars.
It is an Ayurvedic powder used in India to balance the three doshas, biological energies that form the basis of Ayurvedic medicine.
IBISCO - INDIA
The Hibiscus Sabdariffa flower powder is a powerful antioxidant rich in polyphenols and vitamin C, its emollient action helps to calm irritated and swollen skin. The presence of fruit acids allows the Hibiscus to have an exfoliating effect, eliminating dead cells and stimulating the regeneration of new cells, thus having an anti-aging action.
Suitable for mature, sensitive, dry, dull skin.
RICE - ITALY
Micronized Rice Powder helps to soften the skin and leave it soft to the touch. It has a matting effect and absorbs excess grease. Added as an ingredient to face masques, it improves the quality of the product by creating a soft and easy to apply mixture.
TURMERIC - INDIA
Turmeric is an excellent cicatrizant and gives brightness to the face. The curcumin present in Turmeric powder inhibits the action of enzymes responsible for the signs of aging on the skin, such as wrinkles. In addition, it protects delicate skin thanks to its powerful antioxidant action and helps the skin to obtain a healthy and radiant appearance.
ORANGE - INDIA
Orange peel powder, rich in vitamin C and flavonoids, is astringent and invigorating, gives the skin a luminous and fresh touch.
Used in Ayurvedic medicine to balance biological energies, it helps to cleanse the skin deeply, eliminating dead cells and clearing clogged pores.
It gives the skin a radiant appearance.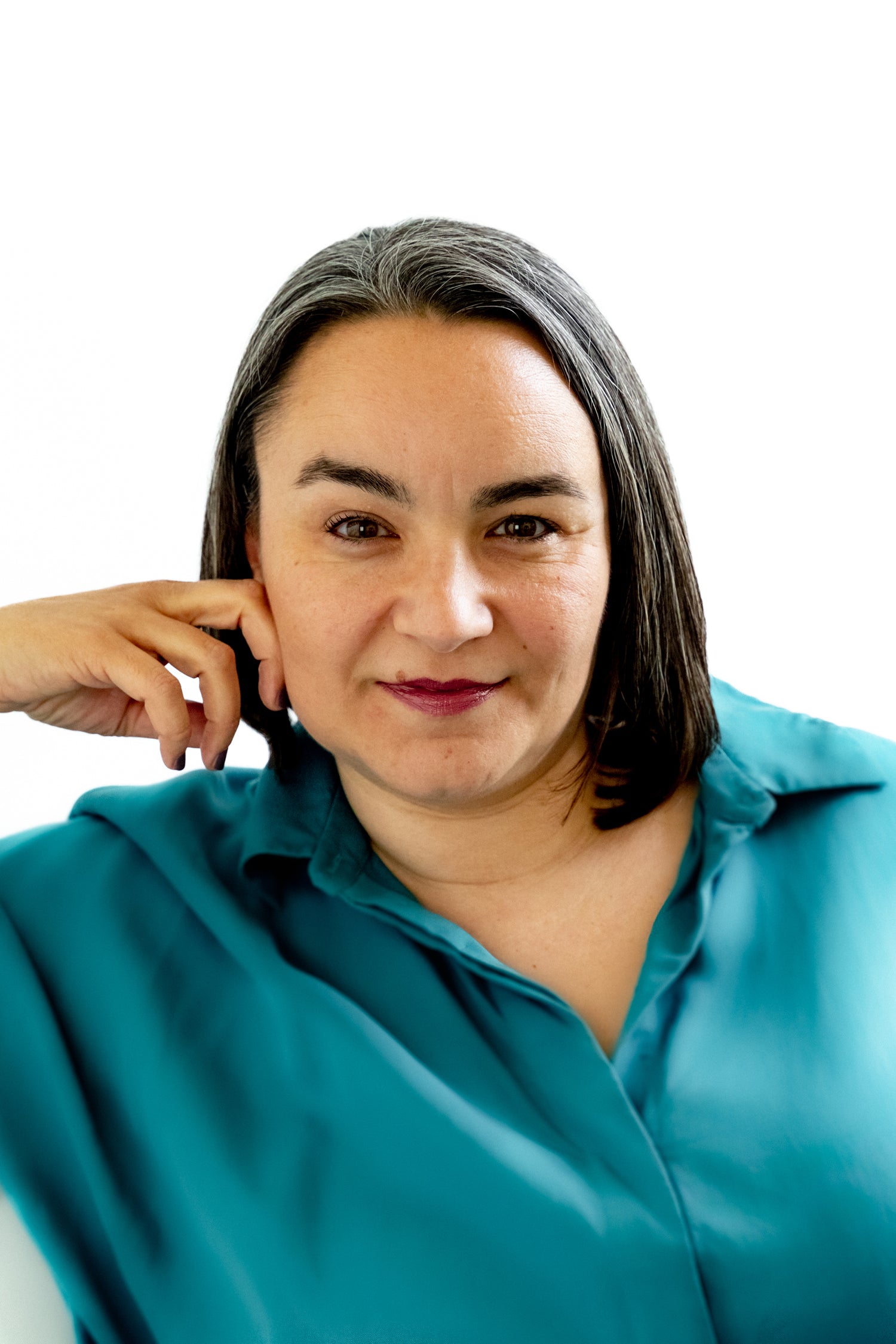 Who is Broosha?
Meet Ilaria, Formulator and Founder of Broosha and Face Yoga coach.
Ilaria found her passion for cosmetic DIY's many years ago when she created her very first simple scrub with Aloe Vera gel and brown sugar in her kitchen to sooth her dermatitis. After that, the lipbalm obsession she had lead her to find her unique formula that her friends love and still ask about.
Curiosity for this satisfying hobby brought her to experiment with many other recipes, so she decided to study Organic Skincare Science and learn how to formulate cosmetics professionally.
She got her first Diploma in Organic Formulation at the beginning of 2021 and she then enrolled in the Entrepreneurship Program for Beauty Brand Founders, and she studied Skin Science and Business Management.
Ilaria believes that it's fundamental to know what we put on our skin and invites everybody to learn how to read cosmetic labels.
Her mission is to create awareness about the Conscious Beauty concept, where ethical decisions are taken in order for us to get a natural glow and a guilt-free mind.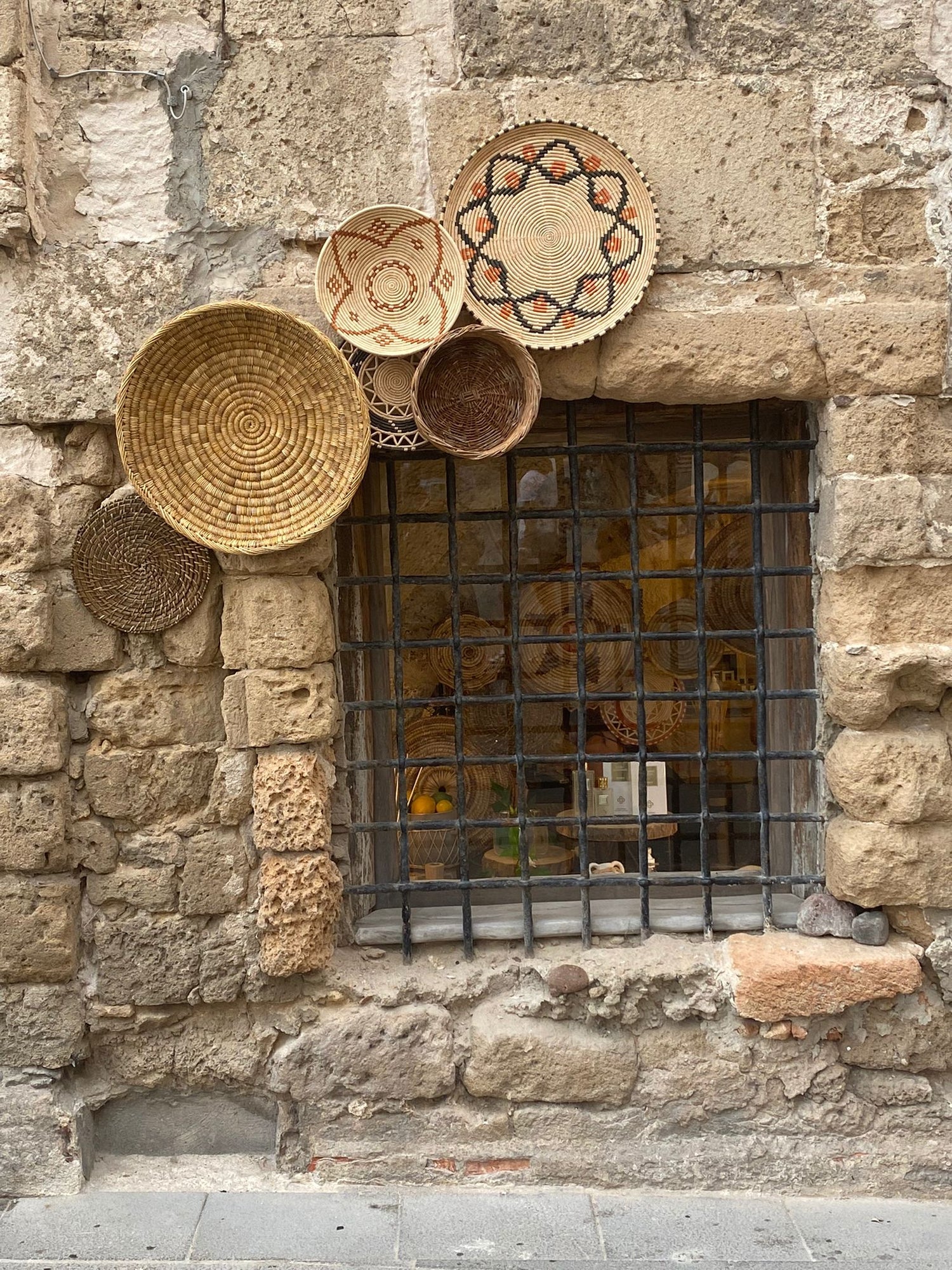 Why 'Broosha'?
In the Sardinian language, Broosha ('bruxa' or 'bruscia') means 'witch' (like bruja in Spanish). Bruscia is a witch and healer in the village, with a wild and intuitive personality that makes potions and ointments and recites 'brebus' (prayers against evil) to cure body and soul.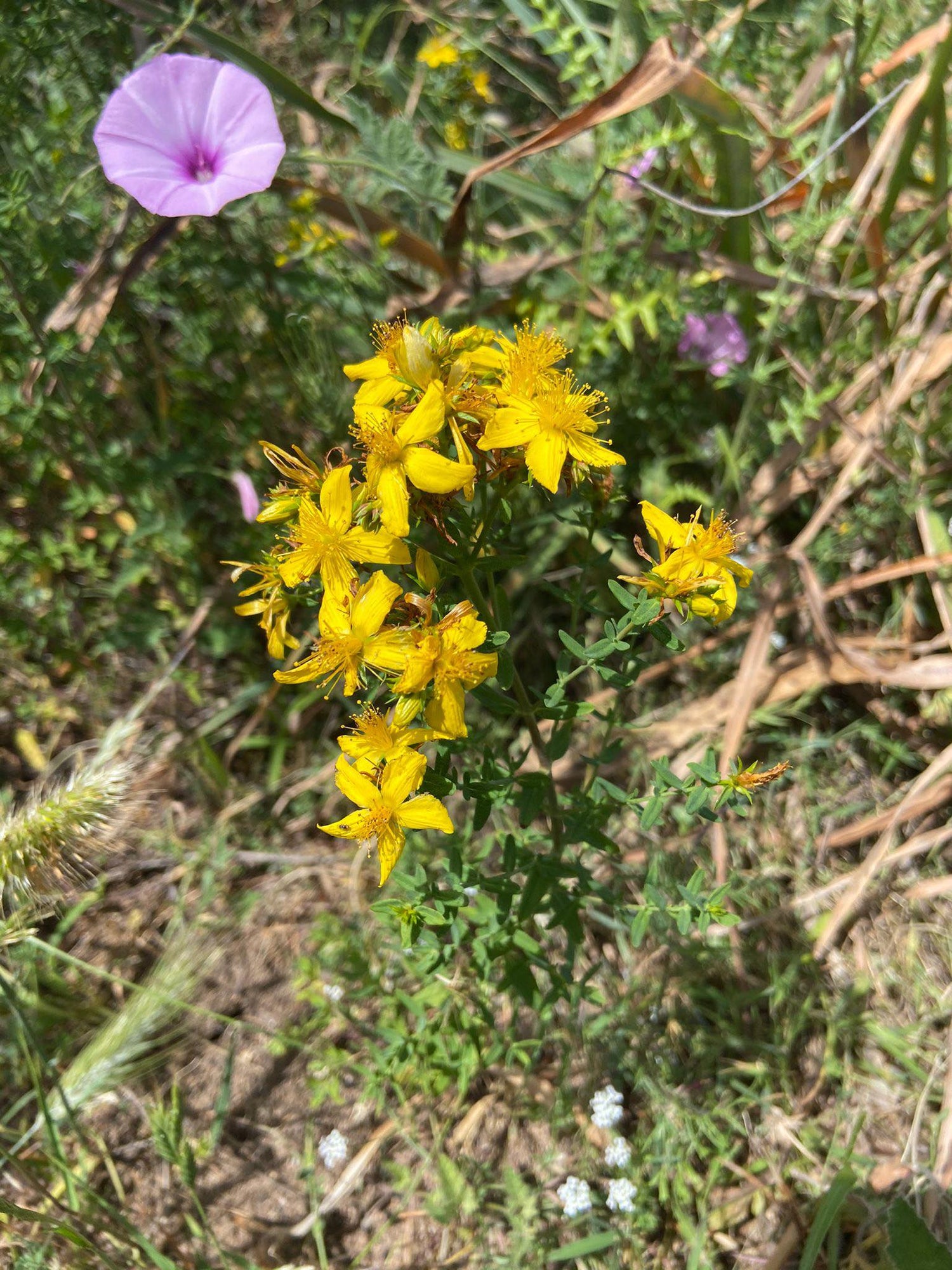 Broosha, inspired by traditional remedies
For Ilaria, Broosha is a modern witch: a woman with special skills and wide availability of plant extracts coming from the local territory, sometimes blended with others more exotic to achieve a unique creation; a large dose of empathy for skin and soul and dedicated attention to the environment when it comes to select ingredients, packaging, and manufacture.
Sardinian plants have a long story of traditional remedies, which are the main inspiration of the skincare line created by Broosha.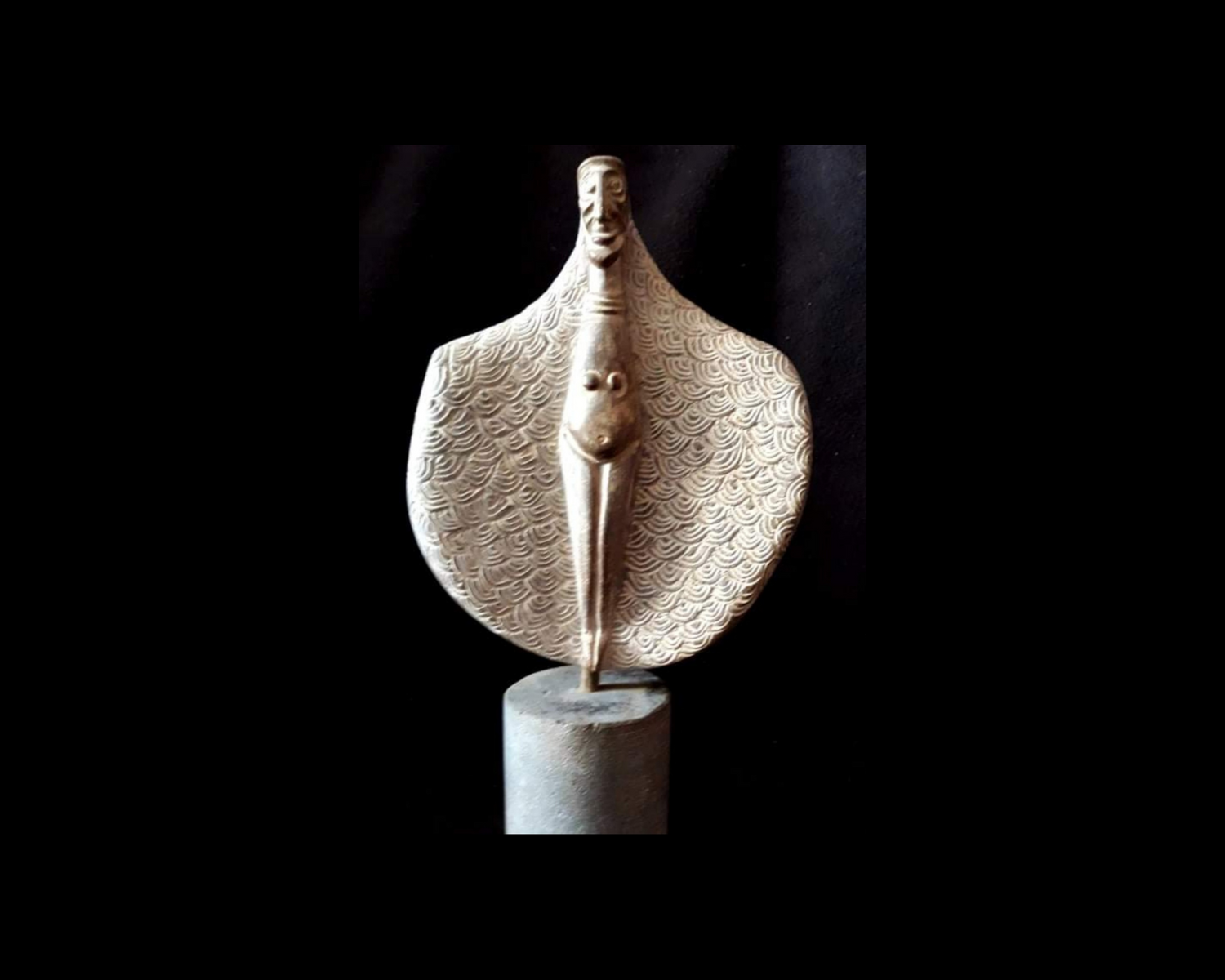 The logo
Gigi Porceddu, a well-known stone sculptor from Sardinia, an expert in Neolithic art, carves hard river stones creating statues that represent Neolithic warriors and mythological figures. It's in his sculpture representing a "Coga" – a mythological Sardinian witch that can transform into any animal at night, witchcraft expert that makes magic spells and lives in the woods, that Broosha and art met.
The statue in this picture was displayed in Bilbao's art museum. 
Sardinia is often described as magical land with a long history of traditions and legends. Bruxas are village healers that actually exist, while Cogas are scary and mythological, so they don't exist in real life, but locals say that if you lose something, you can go in the woods at night, ask them for help and, once back at home, you magically find what you were looking for.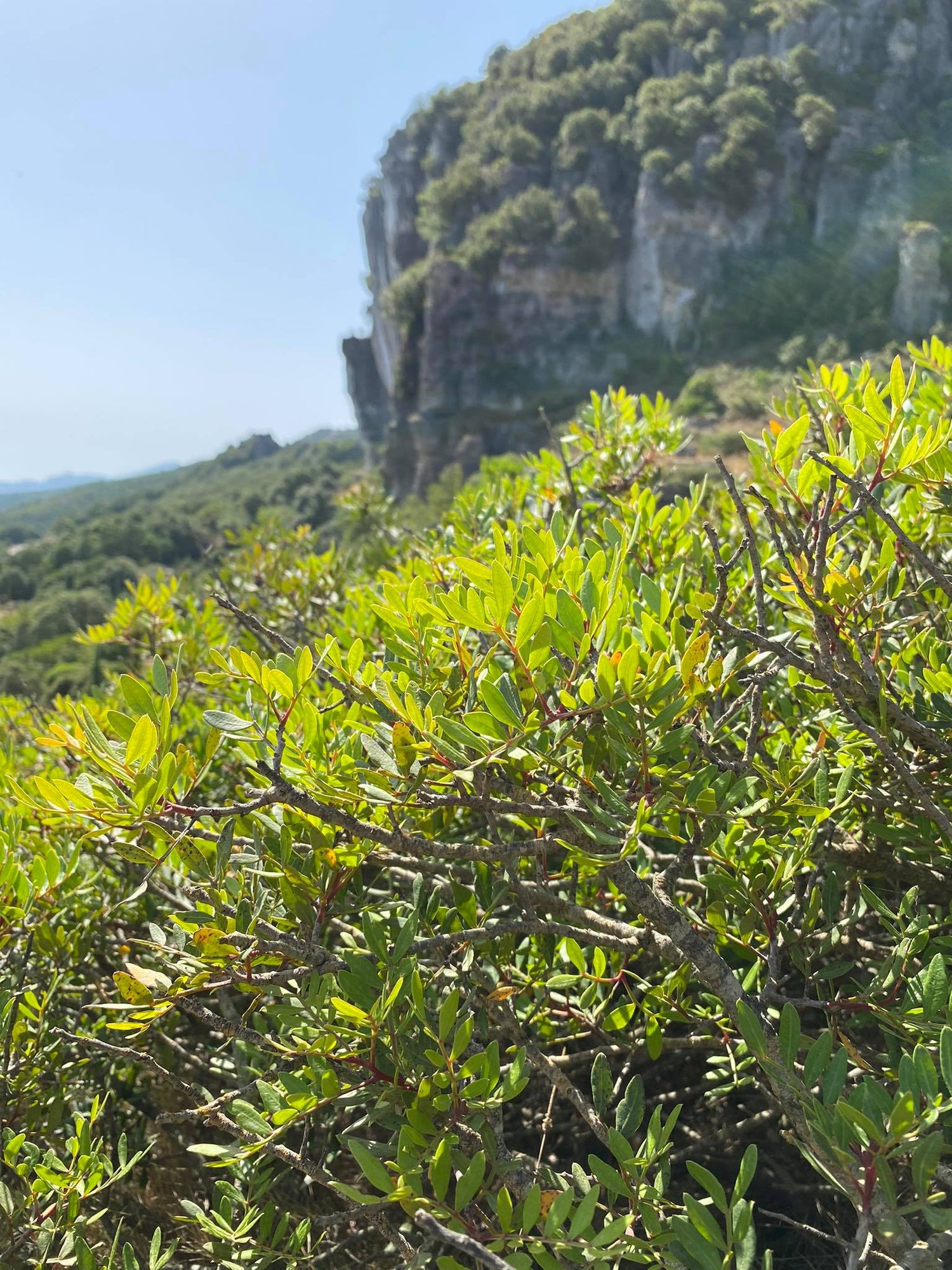 Our mission
Broosha's mission is to prove that plant-based cosmetics work beautifully on the skin since they are just what it needs.
The meticulous selection of the ingredients and their components and properties aims to help ageing, dry and sensitive skin regain suppleness and relax wrinkles using only extracts from nature in their purest form.
We use only outstanding plants extracts to ensure the best quality and results.
Your skin will glow so much that it will enter the room before you.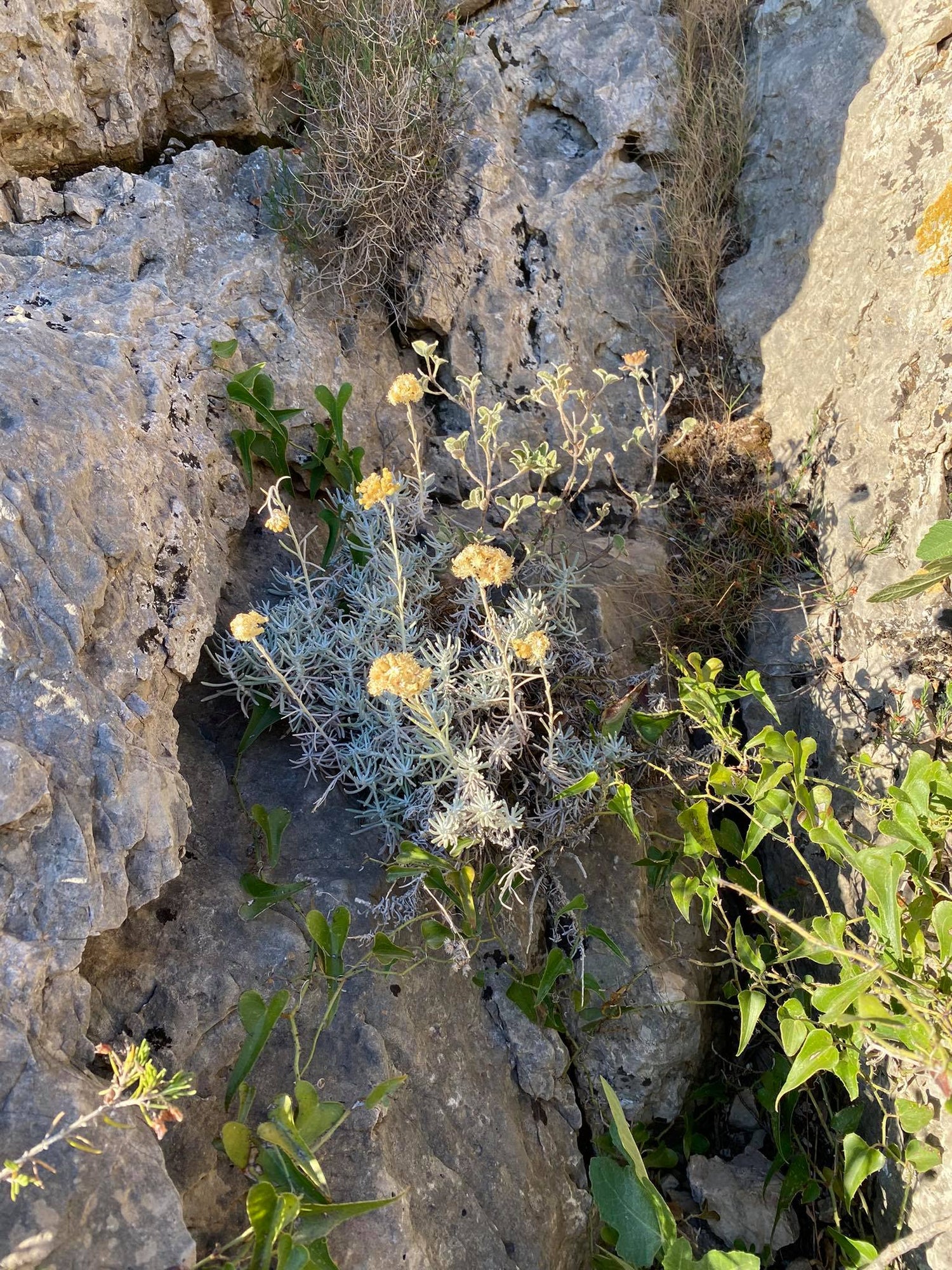 Sustainable? Yes, but how?
At Broosha, sustainability is a must: it is the first criteria of all our choices.
Broosha's ingredients are all locally, consciously, and ethically produced and harvested.
They are 100% plant-based, mostly certified Organic, endemic of Sardinia and the Mediterranean area. We try to reduce in this way the CO2 emissions as also the manufacture is processed in Sardinia.
We formulate high-quality products with outstanding ingredients made by local producers, supporting businesses from the area and respecting the native culture and tradition of herbal remedies.
Our cosmetic packaging is made with recycled glass, recycled plastic and compostable corn starch.
Broosha believes that the future of skincare is all about sustainability, traceability, and recyclability.